First of all, I want to tell you all about a cool new project am participating in, thanks to one of my friends. It is called 365 Project and it is a site where you make a profile, and each day you upload a picture of something that you did that day, or that happened, or you made. Basically, a picture of each day in your life for a year. I have been looking for an excuse to take more pictures, in the hopes that maybe Hubby and I will have reason to get a new camera. So, this is the perfect start.
So, please check out
my profile
and if you join up, follow me, and I will follow you back, so we can see each others pictures. I think it is going to be really fun!
Now, on to Welcome Wednesday!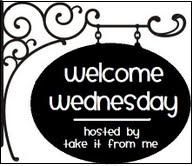 If you do not know what this is, it is a blog hop, and here is how you join in the fun:

1. Follow the Welcome Wednesday Host (Take It From Me) as well as the 2 Spotlighted Blogs of the Week. (These will make up the top three slots on the Linky)

2. Link up your blog name and URL with our Linky. (You only need to add your info once for it to be seen on all the blog hops)

3. Grab our Welcome Wednesday button and include it in a post about the event on your blog.

4. Go to as many blogs on the MckLinky as you want and Follow them. Be sure to tell them you are from Welcome Wednesday!

5. Be sure to Follow back any followers you have gained from our Welcome Wednesday event!


So, I hope to make all kinds of new friends here and over on my 365 Project!

*waves hello to new friends*